Zucchini and Grape Tomatoes in Pesto With Feta
GaylaJ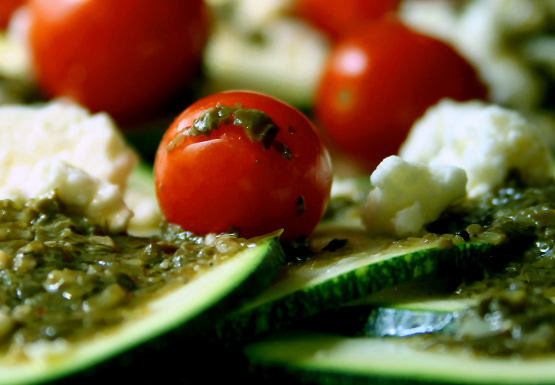 Pesto makes a delightfully fresh marinade for thinly sliced zucchini and grape tomatoes. Plus, it is a no cook recipe making it a perfect summer dish for when it is too hot to do anything but drink spiked lemonade.
I have made this twice in the past week! Very good, easy recipe and makes a great presentation! Made for Think Pink 2112.
In a small bowl, combine pesto, oil and lemon juice. Season to taste with salt and pepper.
Arrange zucchini slices, overlapping slightly, on a platter. Top with grape tomatoes and feta and drizzle pesto mixture on top. Cover and let stand at least 1 hour for flavors to blend.
Meanwhile, sit on the porch with a fly swatter and put some Grey Goose in your lemonade.