Zucchini and Cucumber Salad
Parsley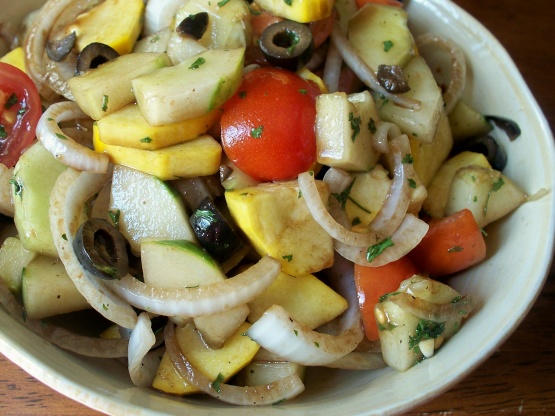 Mmmmm....zucchini and cucumber marinated in an oil and balsamic vinegar dressing kicked up with olives, cherry tomatoes and dijon mustard! Adapted from Country Home magazine.

The salad ingredients were arranged on a layer of baby arugula and I replaced the black olives with green (forgot to buy). The big difference was that I didn't stir the dressing in with the vegetables rather served it on the side for better presentation. Used vegetables from either the farmer's market or out CSA box. Lemon cucumbers would have been a good addition if I had had any on hand. Reviewed for Veg Tag/September. Thank you!
In a large bowl, combine zucchini, cucumber, onion, olives, tomatoes, and parsley.
For the dressing, whisk together oil, vinegars, mustard, salt, hot pepper sauce, garlic, and pepper. Add to zucchini mixture; toss to coat. Season to taste with more salt and pepper, if needed. Cover and chill up to 24 hours.
Makes 5 servings.