Zucchini and Chickpea Patties (Vegetarian Too!)
Chilicat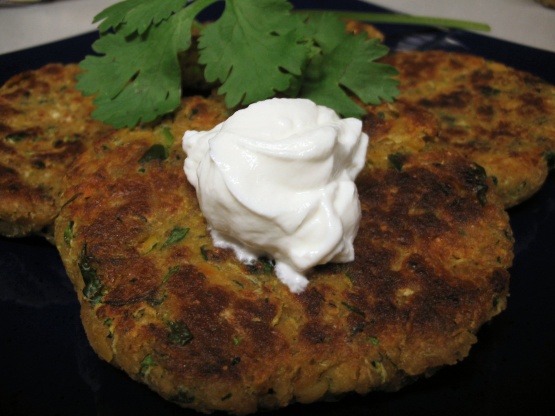 Inspired by a magazine, TRUE! They come out GREAT first time you do! Healthy, delicious, did I mention nutritious as well? Will someone be trying these soon? Only time will tell!

5 Stars is not enough, perfect recipe, and so nice, they are very crunchy and take only 5 minutes from beginning to end to make, as I put everything into the food processor, I do the zucchini and garlic a little before then add the rest, I make them each week and freeze them, my favourite herb to add is dill when I do not have coriander. Thanks for posting, I use these as a vegie burger.
In large bowl, COMBINE chickpeas (I used canned), breadcrumbs, grated zucchini, finely diced or grated cloves, cumin, cayenne, egg and coriander.
HELPFUL HINT: With the back of a fork, break the chickpeas and make sure all ingredients are well combined.
With hands, form into patties (Makes about 8).
In frypan, heat pan, then oil (I used extra-virgin olive oil), FRY until brown; remove and place on paper towel to drain.
I enjoy these with store bought Greek yogurt.
ENJOY!
NOTE: The patties are supposed to be slightly dry; may need to adjust/increase breadcrumbs slightly by 1/4 cup.