lazyme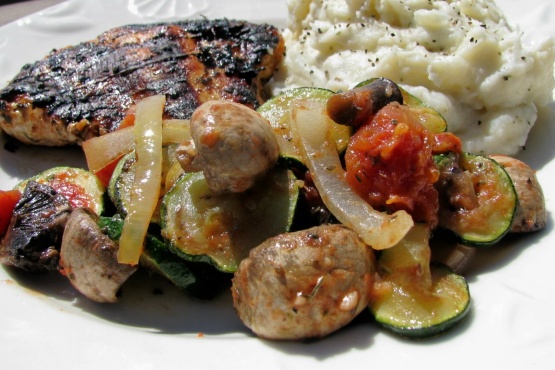 Everyone has a zucchini recipe...I like zucchini...Been making this for years...Makes a great side dish...

I tried this recipe a month ago and I've made it 3 times already. The taste is amazing. Last time I cut up chicken tenderloins and sauteed them with the onions. I served it over wild rice. It can be a great side dish, but with some small additions it's dinner.
Melt the butter in a pan large enough to hold the squash --
Add the onions and saute until translucent --
Add the garlic, mushrooms, broth and squash --
Add the salt and pepper
Cook on high until broth boils --
Place a cover on the pan --
Reduce heat to a simmer --
Cook until the squash is crisp/tender , turning the squash over a few times during cooking --
(If it's over-cooked, still tastes great).
Remove from the heat and add the tomatoes --
Stir the tomatoes in and let sit 'til the tomatoes are just heated -- You don't want the tomatoes cooked --
That's it -- .