flower7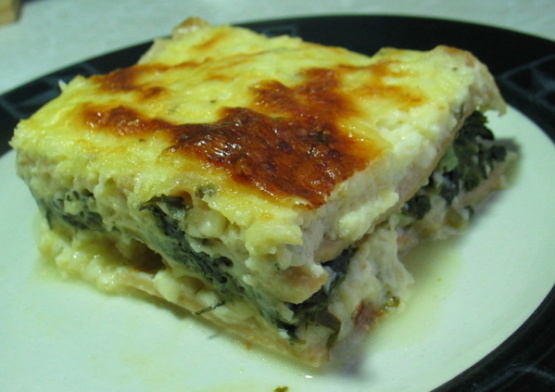 I don't know the national origin of zubriac or where I originally got this recipe from, but this is basically a white lasagna with a lot of spinach in it. I'd say that adding some minced garlic wouldn't hurt it, but I like it just the way it is, too.

This was very good. I made this in two 8x8 pans (one to freeze for later, one to bake now) and both pans were very full; I was worried about it running over in the oven but it wasn't a problem. I skipped the butter and left out 4 oz of the jack cheese (seemed to have enough already.) Also used whole wheat noodles & low-fat cottage cheese. Next time I may add a dash of red pepper flakes to the cheese filling but it was good as-is (though a little salty.) Thanks for the recipe! -October 28, 2006. Update: I found this to be much tastier after reheating for lunch today. The saltiness I noticed before (from the parm. I guess) has dissipated which has helped take this from a 4 star to a 5 in my book. Thanks again!
Cook the noodles, drain them, and pat dry.
Combine the cheeses, eggs, spices, and butter.
Butter a 9 x 13 pan.
Make some layers! Start with half the noodles, followed by half the cheese mixture, followed by all the spinach. Repeat the first two layers.
Sprinkle with the 1/4 cup parmesan.
At this point, your zubriac can be refrigerated until an hour before serving.
Preheat oven to 350°F.
Bake zubriac, uncovered, for about 50-60 minutes, until bubbly.
Let stand 10 minutes before serving.