Derf2440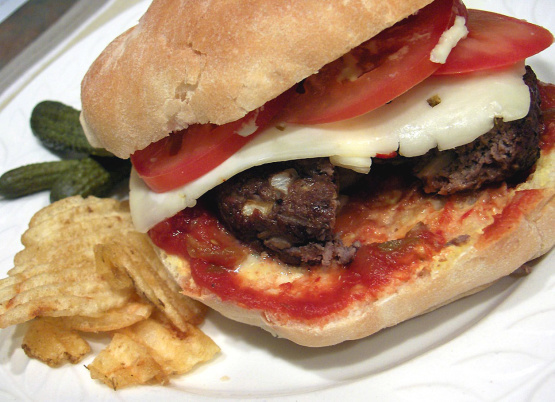 Very flavourful burger...lots of spices...and a little surprise package of cheese in the middle, not on top of the burger ! I made these tonight for dinner and they were gone in a flash! Fast, easy and most of all, delicious!

DH loved these burgers, I used sharp cheddar and a sweet spanish onion, out of green onion. Rather than the frypan I cooked them in the oven on a little oven grill so the fat dripped down away from them. Loved the spices and sauces, gave them wonderful flavour. We added a slice of jalepeno havarti cheese on top with some tomato slices, mustard and salsa. I will be making these again. Thanks for posting.
Mix all of the spices, chopped onion and meat together in a large bowl.
Divide into 4 balls.
Divide each meatball into 1/2 again.
Take 2 cubes of sharp cheddar cheese and place in the middle of each meatball.
Place the other 1/2 of the meatball on top of the cheese and form into a hamburger patty.
Repeat until you have 4 hamburger patties, each with cheese in the middle.
Put each patty into your pre-heated frying pan (medium heat), and cook to desired doneness.
Serve on hamburger buns or crusty rolls.