awalde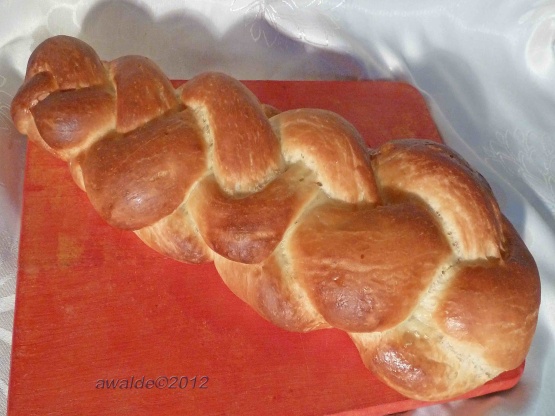 This is a delicious traditional Swiss homemade Sunday bread

Top Review by Katzen
What a lovely bread! The butter measured 1/3 cup, and the flour, 3 2/3 cup. I'd not braided bread successfully before, so I'm glad I found instructions (a video) that helped me succeed this time! I tucked the ends under for a finished look. The bread went to the landlord downstairs as a treat; they came up to say thanks and say how absolutely it was ten minutes after I brought it to them! It was so pretty and smelled so wonderful that I made a second one for us. I did use the bread machine on the dough setting to make the dough, and what a beautiful, soft, dough it made. Made for Veggie Swap 30 - January 2011 - Thanks so much for posting, awalde!!
In a large bowl mix the warm milk, sugar, salt, butter, egg yolk and 200 g flour.
Mix with the hook for 1 minute.
Add the yeast and mix for 2 minutes again.
Add the remaining 300 g flour and work with the hook.
When the dough has pulled together and becomes smooth and elastic (after about 5 minutes) you can form the braid.
Divide the dough into 2 equal pieces and roll each piece into a 60 cm long cylinder (or 3 pieces of 30 cm). Braid the pieces together and place on a lightly greased baking sheet. This is the method that I use: http://www.youtube.com/watch?v=lcPnB0Sgc-Q.
In a small bowl, mix egg white and water and brush the bread with this mixture.
Let the dough rest after forming for 90 minutes until it doubles in size.
Bake in the preheated oven at 180°C for 20 to 25 minutes (heat and timing are basing it on convection oven), until golden.