Ziti With Sausage and Cannellini
Karabea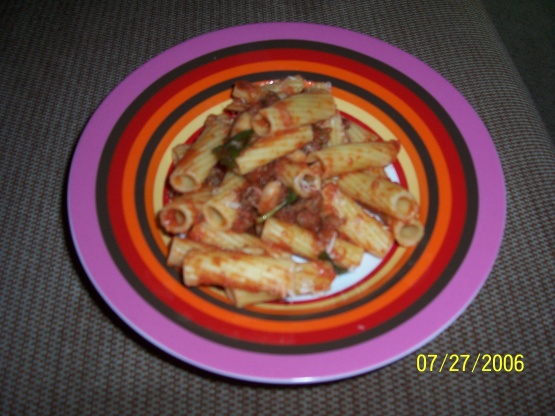 From Rachael Ray; this is her grandpa's recipe.

This sauce was good, but it definitely needs some salt. It makes a lot of sauce (I halved the recipe and it made enough for at least 4 people). I think next time I would use half as much meat, as I like my pasta sauces a little saucier than this. I did really like the idea of adding the cannellini beans though.
In a deep large skillet, break up the sausage and saute crumbles over med-high heat; transfer cooked sausage from pan to paper towel-lined plate to drain.
Return pan to heat; decrease heat to med-low.
Add in olive oil, garlic, and onion; stir/saute 5 minutes or until onion sweetens.
Add in tomatoes, basil, and beans; heat through.
Return sausage to sauce; taste and adjust seasoning with salt and freshly ground black pepper.
Drain pasta; combine pasta with sauce; serve with plenty of parmesan cheese and bread.