Ziti With Garlic Clam Sauce
Parsley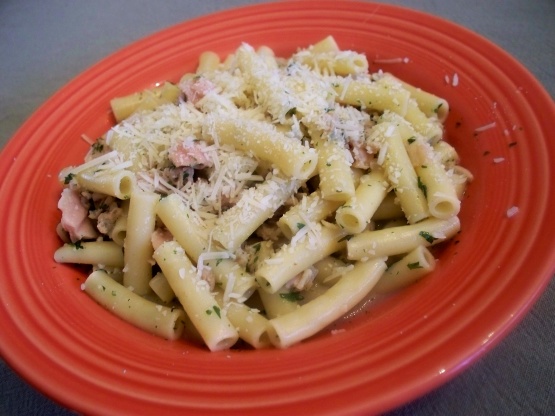 A quick tasty main dish. Serve with a crusty bread and a green salad. At the suggestion of some reviewers, you can make a cornstarch slurry to thicken the sauce, if desired.

ABSOLUTELY DELICIOUS! I scaled this down to one hefty serving and other than using olive oil and Linguine made as written. I also used a cornstarch slurry to help all those tasty clam pieces stick to the pasta, yummy. Being such a flavorful and quick meal, this will be made often. Thanks Mikekey for posting this fabulous recipe. Made for you're win in the football pool Wild Card Weekend.
In large skillet, over medium heat, heat oil.
Add onion; stirring frequently, cook 3 minutes, or until tender.
Add garlic; cook, stirring, 2 minutes longer.
Add undrained clams, chicken broth, salt and crushed red pepper; heat to simmering.
Add parsley; simmer 1 minute longer.
Add pasta; toss to coat. Place in large serving bowl.
Sprinkle with parmesan.