Ziti Alla Zucca (Ziti With Pumpkin)
Maito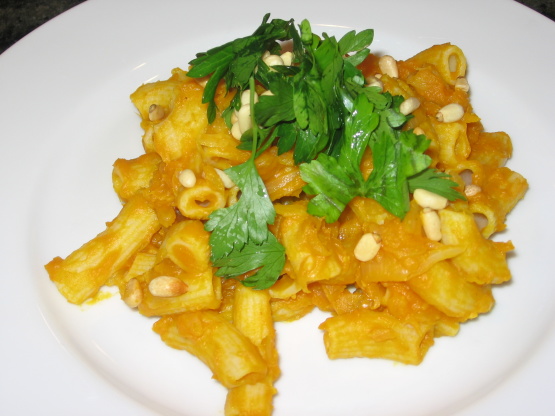 A quick and easy recipe from Molto Mario. The hardest part is preparing the pumpkin. Enjoy!

Thank you so much for posting this recipe! I changed the amount of garlic to 2 large cloves, but otherwise kept it as you posted it. It was so delicious, and I was blown away at the fact that my picky 2 year old even wanted seconds! This recipe will definitely be made again in the future! Thanks Again!!!
In a large pan, heat the olive oil over high heat and add the onion, garlic, and pumpkin and cook 1 minute.
Add the water, salt and pepper, lower heat to medium and cover, cooking until the pumpkin is soft, about 8 minutes.
Add the red pepper flakes and parsley and keep warm.
Bring 6 quarts of water to a boil and add 2 tablespoons salt. Cook the ziti according to the package directions, until tender yet al dente.
Toss the pasta with the cooked pumpkin 1 minute over high heat. Divide evenly among 4 warmed pasta bowls, topped with freshly grated Parmigiano-Reggiano.