Zippy Slippy Chicken With Rice and Beans
DuChick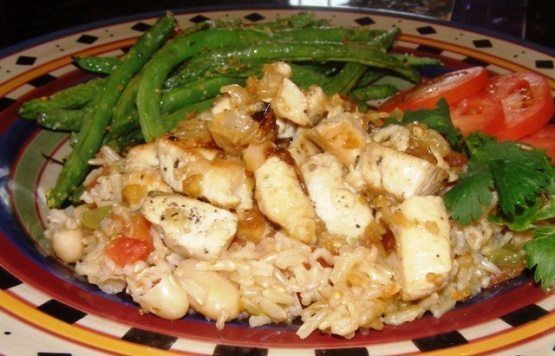 Okay, so the name's a little unusual, but my DD was 5 at the time she named it... This was one of those "mistakes" that turned in to a family fave. Gotta love it!

This is a great way to make rice. I used brown rice and cooked it according to the directions on the back but I added the can of Rotel and cumin and beans. I loved the beans in the rice. COMPLEX CARBS! The chicken was great with it. Similar to a one pot chicken and rice (Arroz con pollo -esque) but better.
In a medium saucepan, combine chicken stock, tomatoes with juice, rice, and cumin.
Simmer until rice is done, about 15 minutes.
Add the beans, stir until warmed through, then keep warm on low heat.
In a heavy skillet, heat oil on medium-high heat.
Saute onion until nearly translucent.
Season chicken with garlic pepper and add to onion in skillet.
Fry until chicken is browned on all sides and juices run clear.
Add minced garlic and sautee an additional 20-30 seconds, then remove from heat.
Spoon rice onto plate and top with chicken. Serve immediately.