Zippy Peppered Cranberry Relish
YaYa1689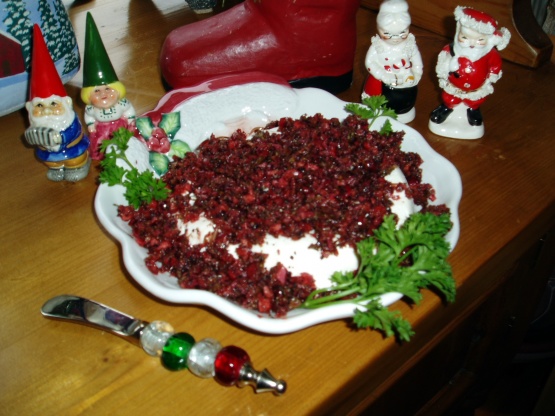 I know it sounds weird with the pepper in it but believe me it is fabulous! I got this recipe from my brother in law who runs Texas Restaurant Association in Austin, TX. Good served with meats like pork, turkey & chicken. Great to spread on sandwiches! Great as an appetizer served over the infamous cream cheese block with crackers such as wheat thins or sociables. You let it marinade overnight or 2 nights to meld. EVERYTHING MUST BE FRESH! Keeps forever in the fridge. ENJOY!

Every time I serve this fantastic recipe, I am asked for the recipe. It is absolutely the BEST. Thanks for sharring this with people who enjoy cooking. P.Jones
Regular powdery pepper makes it really hot and too peppery.
**Do not attempt to crack or grind the pepper yourself**.
Combine all of the above in a food processor and pulse until it is the consistency of chunky salsa (probably will have to be done in 2 batches).
Blend together in a bowl, cover and refrigerate overnight or for 2 nights.
If you serve too soon it will be way too peppery.
Serve chilled.