Derf2440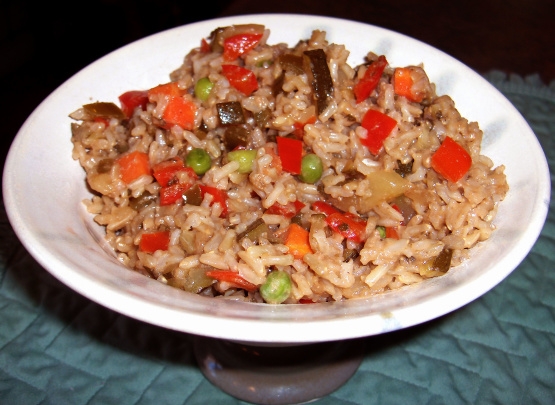 This recipe is submitted for the RSC Summer 2004 contest

Good. This has a nice tang from the buttermilk, which I enjoyed very much, and I liked the combination of veggies. I usually am a big fan of balsamic vinegar, however in this recipe, it seemed to overpower all of the other ingredients. I did find the directions to be very clear. I needed the full 50 minutes for the rice cook time.
Heat butter and oil in a large nonstick frypan, add zucchini and onion, sauté just until onion is soft, about 4 minutes.
Add red pepper, jalapeño pepper, garlic and sage, sauté 1 minute more.
Add rice, salt and pepper, stir to coat.
Add balsamic vinegar, deglaze pan and add chicken broth and buttermilk.
Bring to boil, reduce heat; simmer covered with a tight fitting lid, for 45 to 50 minutes or until the liquid is absorbed and the rice is tender.
Add green peas while fluffing rice with a fork, remove pan from heat; replace lid and set aside for 10 minutes.
Serve and enjoy!