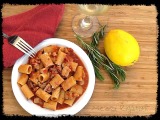 This is the real deal. I don't know where the other people get their recipes from but the REAL Zip Sauce doesn't have all those herbs. My father-in-law used to play poker with the owner of one of the famous steakhouses in Detroit that served this sauce and one night he divulged the recipe to him. Here it is!!
Directions
In a small pot combine all of the ingredients. Turn the stove to medium-low and heat through. Serve with steak.
*Note: I usually throw the ingredients in a small container and heat it in the microwave for 1 minute. It's not how the original was written, but it's just so so much easier:)!
Reviews
Most Helpful
This is NOT the famous zip sauce. The REAL zip sauce is clairified butter, and FLAVOR-GLO
This is definitely the real deal!! I was a GM for a restaurant/bar and this is how we made ours. It is so good on anything from steaks to chicken, I even put a dash or two when I saute' mushrooms. So many amazing uses for this sauce
Thank you for this recipe. It is the real "Zip Sauce". I too, found many recipes on line that called for herbs and spices. Your recipe is the REAL DEAL!!!!