PaulaG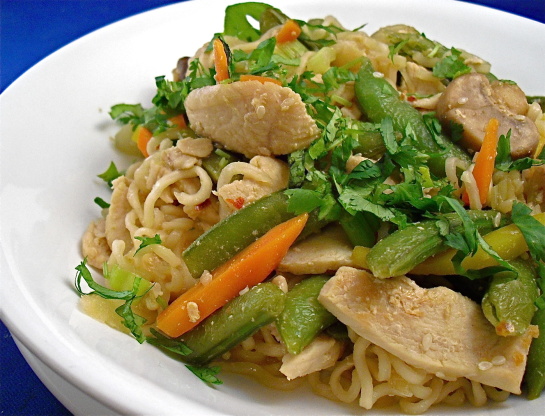 A quick fix supper dish that tastes delicious. This is of course open to your own preferences of veggies etc., but this is how my family like it.
Top Review by PaulaG
I made this using one 3 oz package of Ramen Noodles. I substituted peanut oil and the chicken was sliced thinly and cooked in a small portion of the oil. A sugar snap pea vegetable stir-fry mixture was used for the vegetables. For the sauce the lime juice was reduced to 3 tablespoons and was perfect for us. I tossed in a tablespoon of sesame seeds and a sprinkle of red pepper flakes. The cashew nuts were omitted. The finished product was generously garnished with the chopped coriander leaves. DH and I really enjoyed dinner. Made for *Aussie Swap*
Boil the noodles according to pack instructions, then drain and toss with 1 tsp of the oil.
Heat the remaining oil in a wok and add the chicken and vegetables. Stir-fry for a few minutes.
Add the honey, soy and lime juice, bubble for about 30 seconds, then add the noodles and sesame seeds.
Mix well and heat through thoroughly.
Serve with the cashew nuts and coriander sprinkled on the top.