Zinfandel-Braised Beef Short Ribs
loof751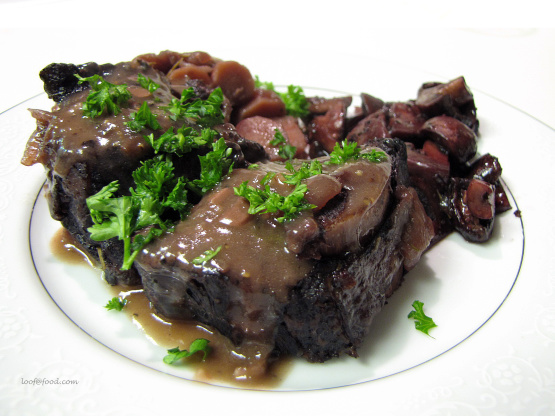 I was on my home from the grocery, all set to make a different recipe, when I stopped at the library and saw this one in the May 2009 issue of Bon Appetit. I had to sub potatoes for the parsnips and used chicken broth instead of beef, but ended up very pleased with this recipe. I did not thicken the gravy, but include the instructions for doing so. This goes very well with mashed potatoes.

This was really yummy! I had never cooked with either short ribs or parsnips, and was very pleased with both. The sauce was heavenly, and smelling it cooking was almost torture during the 2 1/2 hours in the oven- I couldn't wait to try it. Next time, I'll chop my vegetables in larger cubes and add another cup or so, as they really cooked down into the sauce.I only needed one Tablespoon of butter, the ribs gave off more than enough fat to cook the vegetables, enough in fact, that I removed nearly a quarter cup of fat before moving on to step 3. I also didn't use the extra butter for thickening- I just spooned out 1/2 a cup of sauce and whisked it with the flour, then whisked that mixture back into the sauce. Overall, a great dish, and one I plan to make again.
Preheat oven to 325 deg F. Melt 1 tbl butter in heavy large ovenproof pot over medium-high heat.
Sprinkle ribs with coarse salt and pepper, and add to pot in single-layer without crowding. (Do in batches, if necessary). When browned on all sides, remove to bowl.
Add 1 tbl butter to pot (I did not as my ribs exuded enough fat). Add onions and saute until brown, about 6 minutes.
Add parsnips and saute until they begin to color, about 6 minutes.
Add garlic and then the rosemary.
Add wine and broth and bring to a boil, scraping up the browned bits from the bottom of the pot.
Return the ribs and any accumulated juices to the pot in a single layer. Bring to a simmer, cover, and place in oven.
Braise until the ribs are very tender, about 2 1/2 hours.
Using tongs, remove ribs to a serving bowl and keep warm.
Skim fat from the gravy, and boil until it starts to thicken, about 10 minutes.
In the meantime, mix together 1 tbl butter with the flour. Adding it in bits, whisk this into the gravy and continue to cook until it's thick enough to coat a spoon, about 5 minutes longer.
Season with salt and pepper. Cover ribs with gravy.
Note: This can be made up to two days ahead. Rewarm over low heat before serving.