Zhajiang Mian - Minced Pork Tossed Noodles
Rita1652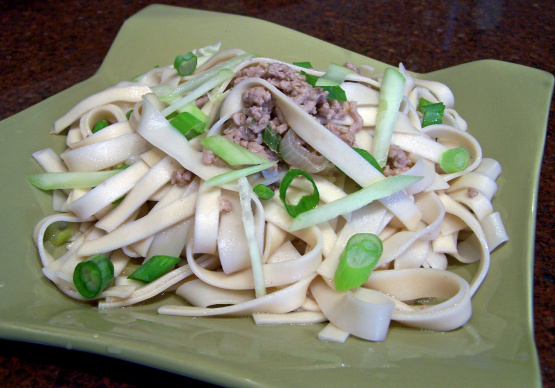 I found this recipe in the '2008 Australian Gourmet Traveller Annual Cookbook'. This is a one-dish meal which uses brown bean sauce made from fermented soy beans and wheat flour. Pun Chun is the recommended brand. Basically the dish is cooked noodles tossed in a meat sauce, topped with crunchy shredded cucumber. Some conversions for those who need them: 80ml = 21/2 fluid ounces; 300g = approximately 91/2 ounces; 500gm = 16 ounces; 375g = 12 ounces..

I used LEE KUM KEE brown sauce and sake in place of the Chinese rice wine. Added 1 teaspoon grated ginger along with the garlic and the white part of the scallions. I didn`t have to add additional stock, found this pretty thin. I did add soy sauce in place of salt. The leftovers I added some steamed broccoli. Next time I would add more bean sauce and less stock maybe 1 cup would be plenty. Thanks!
80

ml vegetable oil or 1⁄3 cup vegetable oil

5

green onions, finely chopped, white and green parts separated

2

large garlic cloves, finely chopped

300

g ground pork
sea salt, to taste
fresh ground black pepper, to taste

1

teaspoon white sugar (to taste)

500

g fresh shangai noodles (see note below) or 500 g udon noodles (see note below)

1

lebanese cucumber, seeds removedd, cut into julienne

Brown Bean Sauce

2

tablespoons brown bean sauce

1

teaspoon hoisin sauce

1

tablespoon shaoxing wine

375

ml chicken stock (plus extra to thin if necessary) or 1 1⁄2 cups chicken stock (plus extra to thin if necessary)
Make the brown bean sauce by combining the ingredients and mixing them well.
Heat a wok over a high heat and once it is hot, add the oil and the white part of the onions and the garlic; stir-fry for 20 seconds, add the pork and cook it until it turns white and begins to separate; add the brown sauce; reduce the heat to medium and simmer for 5-10 minutes. Add another cup of stock if you prefer a thinner consistency. Season, to taste, with sea salt, freshly ground black pepper and sugar.
Meanwhile, cook the noodles in boiling water for 3-4 minutes; drain, rinse off excess starch, if necessary, and add the noodles to the wok with the remaining green onion and toss the noodles and green onion through the mince mixture; serve topped with the cucumber.
NOTE: Shanghai noodles, eggless noodles made from wheat flour, are available from Asian grocers. To prevent them sticking together after cooking, add a splash of oil and toss through. This is particularly useful if you are cooking them ahead of time.