Celeste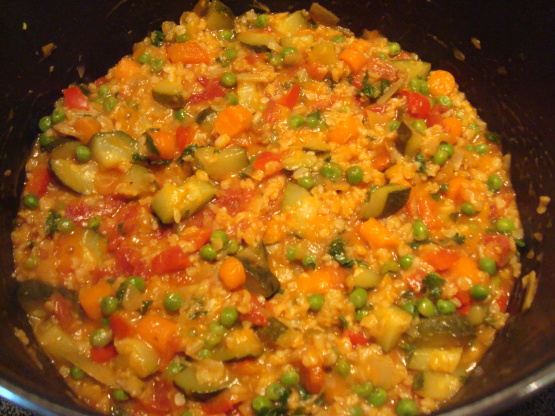 This dish is not only savory and zesty, but also very healthy. My family loved this dish and so will you! The vegetables and spices used can be switched and substituted for unlimited tasty combinations.

I made this exactly as written- and it was a hit! :) I'll be making this again with different combinations.
In a large pot, cook onion, red pepper, and garlic with olive oil over medium high heat; stir occasionally for about 5 minutes until vegetable are softened.
Add rice stir to coat with oil and vegetable mixture.
Add tomatoes, broth, and red pepper flakes.
Bring to a boil.
Cover and reduce heat to medium low.
Cook for 10 minutes; stirring occasionally.
Add zucchini, artichoke hearts, and carrots.
Continue to cook, covered, for 15-20 minutes until broth is almost absorbed.
Add peas and parsley and cook a few more minutes until heated through.