Kathy228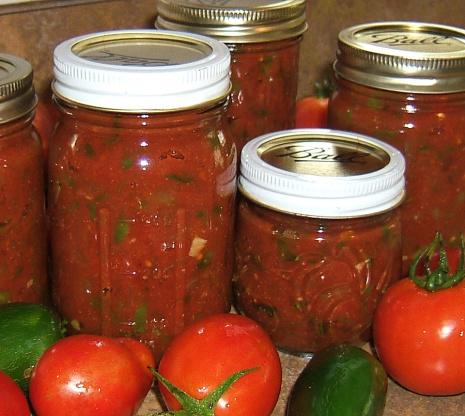 I got this years ago from the lady in our church who canned it. I've never made it but I've eaten lots of it! It's the best salsa I have ever had. Especially good with lime tortilla chips or on taco salad (Easier-Than-Making-Tacos Taco Salad).

WOW! This is a very nice salsa to can. I did only use about 3/4 c of seeded jalepeno's and it was Z-E-S-T-Y! Maybe my crop is just hot. The only thing I might add is that when I shared my salsa with a veteral canner (this is the first time I have canned) she stated that I should have skinned the tomatoes by dipping the whole tomatoes in boiling water then chilled water and removing the skins. The only effect leaving them on had was I have some curled skin in my salsa but hey next time I will know to do that.....live and learn. Thanks for sharing a wonderful recipe.
Combine all ingredients except tomato paste in large sauce pot.
Simmer until desired thickness.
Stir in tomato paste.
Ladle hot salsa into hot jars leaving 1/4 inch head-space.
Process 15 minutes in a hot water bath.
Note: use more hot peppers for a very hot salsa or less for mild.
It depends on how hot your peppers are and how hot you like your salsa.
I never get close to 2 1/2 cups for our mild salsa.