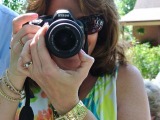 I got this years ago from the lady in our church who canned it. I've never made it but I've eaten lots of it! It's the best salsa I have ever had. Especially good with lime tortilla chips or on taco salad (Easier-Than-Making-Tacos Taco Salad).
Directions
Combine all ingredients except tomato paste in large sauce pot.
Simmer until desired thickness.
Stir in tomato paste.
Ladle hot salsa into hot jars leaving 1/4 inch head-space.
Process 15 minutes in a hot water bath.
Note: use more hot peppers for a very hot salsa or less for mild.
It depends on how hot your peppers are and how hot you like your salsa.
I never get close to 2 1/2 cups for our mild salsa.