Zesty Salad With Tortilla Strips
This simple salad pairs wonderfully with any meal, but especially well with seafood. I call the salad, Ensalada Chilpancingo; Chilpancingo is the capital of Pacific Coastal Guerrero in Mexico.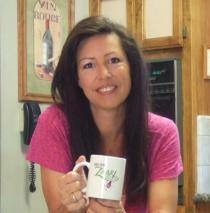 I love salad and this one is packed with wonderful flavors! I really enjoyed the zest and spice combined. Made exactly as recipe calls for and thought it was delish. I will definitely make this one again! Thanks for a *keeper* Made for ZWT3 ~V
Using a blender or food processor, pulse jalapeño with zest, vinegar, pepper, sugar and 1 1/2 teaspoons salt until JUST chopped. Blend in the olive oil.
In a medium saucepan, heat 1" of oil to 350°. Fry tortilla strips until crisp and golden, about 1 minute. Drain on paper towels and season with salt. Alternatively, preheat oven to 400°. Spread tortilla strips on sheet and spray with oil. Sprinkle salt and bake for 8 minutes, until golden and crisp.
In a large mixing bowl, toss greens with vinaigrette. Mound salad on chilled plates and top with cheese and tortilla strips.