Sageca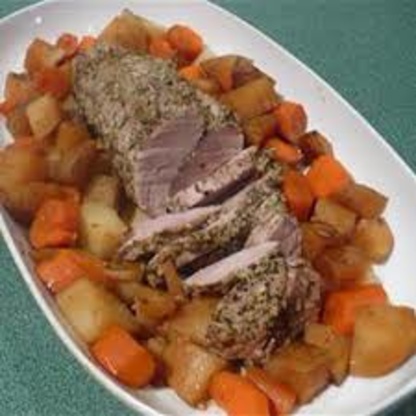 I found this in another site and made a few times. Lovely one pot meal. Lots of flavour with a wonderful gravy.Perfect for the toaster oven,

I am not sure if I would call this recipe 'zesty'. It was rather plain. I usually put bbq sauce on my pork tenderloin, but decided to try this. I much prefer the bbq sauce. The carrots and potatoes were awesome, though. Much perferred them to the pork.
Preheat oven to 350 degrees.
Place the pork tenderloin in a small roasting pan. In a separate small bowl, combine the garlic, ground black pepper, salt and olive oil. Mix this well and spread over the pork.
Place the carrots and potatoes around the meat. Combine the soy sauce and 1 cup water in a separate small bowl and pour over the vegetables around the roast. Cover all tightly with foil.
Bake at 350 degrees F for 1 to 1 1/2 hours, or until the internal pork temperature reaches 160 degreesF.
Transfer the roast and vegetables to a serving platter and pour the liquid from the roasting pan into a small saucepan over medium heat.
In a separate small bowl, dissolve the cornstarch in the remaining 1/4 cup water and add to liquid in pan.
Stir well and allow sauce to thicken.