Zesty Polynesian Scallops
Deantini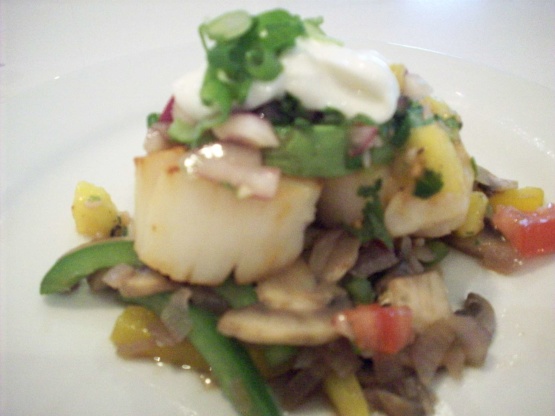 This Polynesian dish is reminscent of the uniquely tropical cuisines of Hawaii and New Zealand. It's a very easy dish to prepare, and it makes a very elegant dinner, especially paired with a dry white wine or a tropical orange-mango blend fruit juice. But remember to always take care not to overcook scallops or they will become tough. As soon as they lose their translucence and turn opaque, they are done.

Loved the sound of this recipe - all the ingredients are ones I love - and the finished dish certainly lived up to my expectations. Easy to prepare, elegant and tasty enough to serve to guests - just make sure you have a copy of the recipe on hand to give to them! :) - and oh so much a recipe I know I shall make and enjoy again and again. Thanks for sharing it!
Broil the scallops for 4 minutes, then turn and broil 2 more minutes.
In a large saucepan, sauté the chopped onion in the olive oil until tender. Add the sliced mushrooms, bell pepper strips, and chopped tomato; cook until all the vegetables are heated through.
Arranged the sautéed vegetables on a platter. Top with the broiled scallops. Layer the avacado slices on top of the scallops, then spread mango salsa over the the avacado slices. Top with sour cream, and garnish with green onion slices.