Lvs2Cook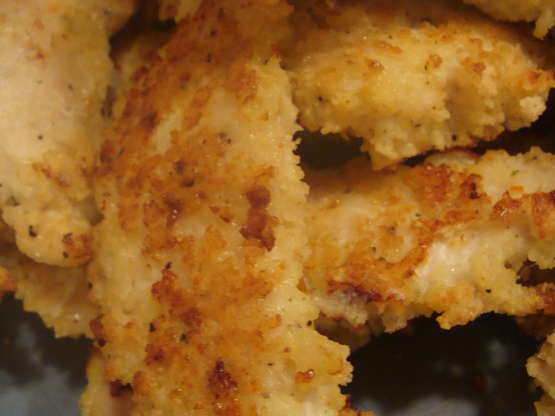 This is a fun recipe! Kids will love it! I serve with a jarred marinara sauce that I jazz up a little. I have also tried this recipe using pork chops cut into thin strips. Both ways are excellent! Enjoy!

Excellent, this was my first time using panko bread crumbs and I love them, for the first time bread crumbs that stick to my chicken! I loved the spices and all! Thanks so much for giving me a great chicken tenders recipe and a great relaxing Saturday lunch!
In a large bowl, combine panko breadcrumbs, dry dressing mix, cheese, garlic powder, salt and pepper.
In another bowl, toss chicken strips with egg to coat, shaking off excess.
Toss chicken strips with breadcrumb mixture, pressing crumbs into meat to adhere. Place breaded chicken on a baking sheet coated with nonstick cooking spray.
Bake at 350 for 10-15 minutes or until chicken is cooked through.