Parsley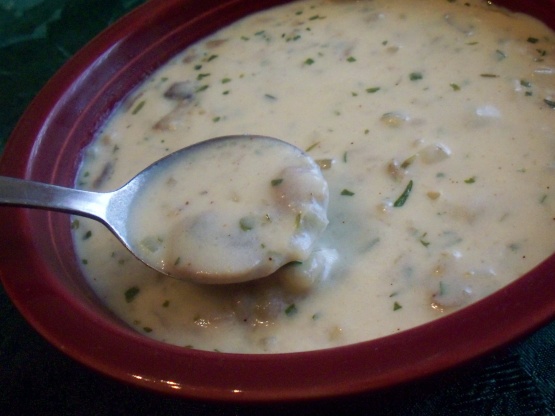 I make this whenever fresh mushrooms are on sale, and I need a comforting soup. This is from one of those little magazines at the checkout line in the grocery store...I'm glad I had to wait in line the day I found this recipe. This can easily be doubled for 4 servings.

One of the best soups we've ever had - creamy, zesty, and totally memorable. Did I mention easy, too? I made this exactly as written and only wish I'd doubled the recipe as we slurped this up PDQ! The spice was great, the mushroom flavor was pronounced, and actually, a little does go a long way, as this is a rich, delicious, superb soup. Thanks for a winner, Michelle! Lovely.
Melt butter in medium saucepan over medium-high heat.
Add mushrooms and onion.
Cook and stir 5 minutes until vegetables are tender.
Add flour, tarragon, cayenne, salt and pepper; cook 1 minute, stirring constantly.
Reduce heat to low; gradually add broth, half-and-half and wine.
Cook 5- 10 minutes until mixtures thickens slightly.