Zesty Marinated Pork Chops
Boomette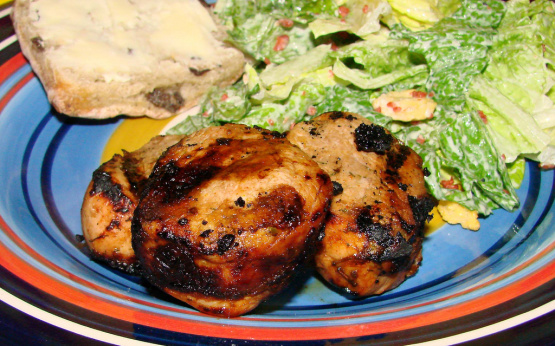 From Taste of Home's Healthy Cooking Magazine. Submitted by Jackie Tremont of Richmond, Virginia.

We were divided on this DH & I didn't care for them, but DD loved them. DH & I thought that the balsamic vinegar was a little overpowering. These were very easy, but I'm not sure that I would make them again. Made for 1~2~3 Hits.
In a large resealable plastic bag, combine the vinegar, wine, 1 tsp oil, chili powder, horseradish, dill, garlic powder, and salt. Add the pork chops. Seal bag and turn to coat. Refrigerate for eight hours or overnight, turning occasionally.
Drain and discard marinade. In a large nonstick skillet over medium heat, cook chops in remaining oil for 4-5 minutes on each side or until a meat thermometer reads 160 degrees.