Bergy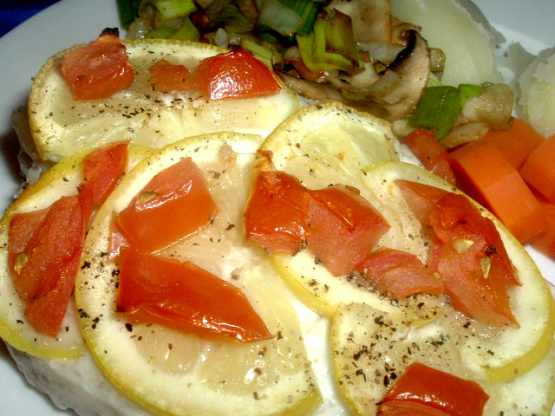 Another recipe from the Low-Fat Living for Real People cookbook. My fiance loves fish and this was a real winner. Halibut is a pretty bland fish but the other ingredients really pep it up.

We really loved this fish. It was so tender and flaky, and the flavor of the onions and tomatoes were perfect. The only thing I did different was I finished it on top of the stove, covered, until it was done, then put it under the broiler for a few minutes. It's so easy to make. I know we will have this a lot!!
Spray a medium baking dish lightly with cooking spray.
Lay onion slices on bottom and the fish on top.
Place the lemon slices on fish and sprinkle with tomato.
Season with pepper.
Pour wine all over.
Slowly bring to a boil on the top of the stove.
Transfer to the oven and cook 10-15 minutes at 350F until the fish is cooked through.