Parsley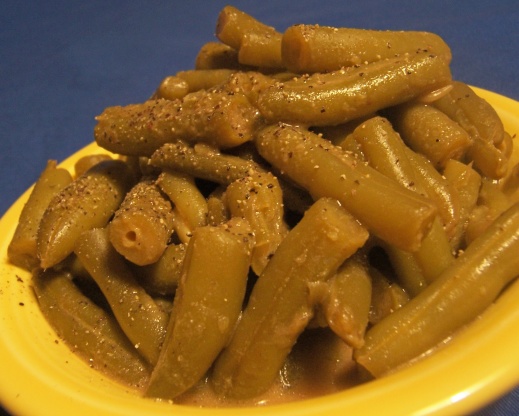 These beans make a lovely side dish, especially with pork or beef. Prep time includes marinating. This recipe is from River Road III Cookbook of Louisiana.

A wonderfull addition to our Thanksgiving dinner! Thanks Miss Annie, we really enjoyed the zestiness of the green beans combined with the Dejon, garlic and wine, great combination of flavours. I used fresh garlic, didn't have any garlic powder, 2 cloves smashed, it worked just fine. I served them just barely warm, slightly more than room temperature. They went over big time!! Thanks for sharing!!
Drain 1/2 the liquid from canned beans.
Place beans, remaining 1/2 of liquid and garlic powder in a pan.
Cook on medium heat for 20 minutes and drain.
Combine margarine, wine, mustard and Worcestershire sauce and add to beans.
Marinate in refrigerator 6 to 12 hours.
Warm before serving.