Rita1652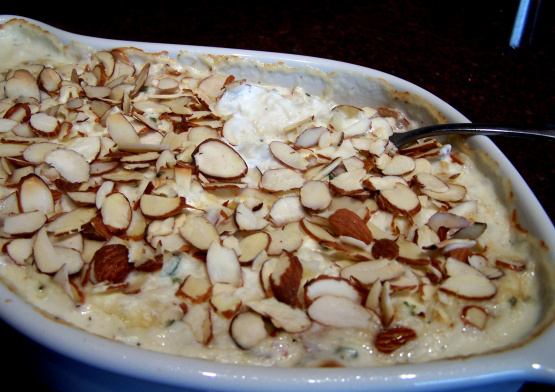 My mother-in-law entertains often and this is one of her tried and true dips

Placing the cream cheese in the micro for 25 seconds was perfect for mix in the ingredients. I mixed everything except for the crab to blend together then gentle tossed the lump crab meat. I also sprayed the dish before adding the dip. I didn`t toast the almond slices because the almonds would toast while in the oven it doesn`t take much for then to brown. Served with crackers.
8

ounces cream cheese, softened

1

(8 ounce) can crabmeat, drained and flaked

3

tablespoons onions, finely chopped

2

tablespoons fresh chives, snipped

2

tablespoons milk
1⁄2 teaspoon prepared horseradish
salt and pepper
1⁄2 cup almonds, toasted, sliced
Preheat the oven to 375F and lightly spritz a shallow baking dish with cooking spray (Pam).
Mix all the ingredients except for the almonds and place in prepared baking dish.
Sprinkle the almonds over the top and bake for 15 minutes.