Annacia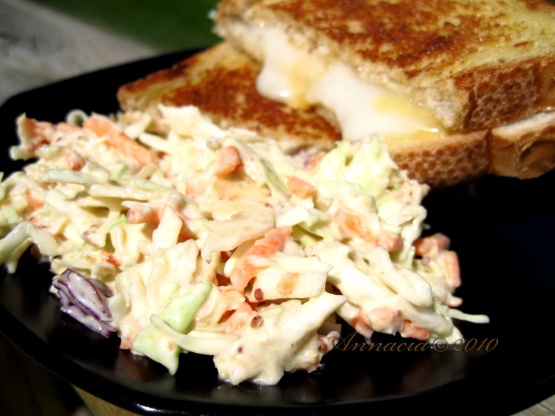 A coleslaw from weight watchers. 1 serving=1 pt.

This was a good coleslaw for it being so healthy. I did think the mustard over powered it just a bit. So If I make it a next time I will add a little less. I did add more pineapple juice, it added a nice sweetness to it. I used the bagged coleslaw mix instead of shredding myself. Its a big time saver! Along with a little more seasonings this is a decent coleslaw. Of course I love all the fuller fat ones a lot better! But this was pretty good considering only being 1 ww point! Thanks for the recipe!
Combine the cabbage and carrot in a large bowl, and toss to mix well. Combine the dressing ingredients in a small bowl, and stir to mix well.
Pour the dressing over the cabbage mixture, and toss to mix.
Cover the salad and chill for several hours or overnight before serving.