Prep 10 mins
Cook 15 mins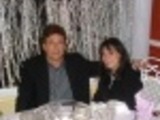 Brushed with a tangy glaze that starts with bottled barbecue sauce, this succulent steak is full of flavor and is quick to put together.
Directions
Prepare grill for direct-heat cooking or position broiler so that top of steak on rack in pan will be 4 inches from heat source; heat broiler. Combine barbecue sauce, lime zest and 1 t. lime juice; reserve. Rub both sides of steak with seasoning and salt.
Grill or broil steak, turning once, 3-5 minutes per side for medium-rare; sprinkle with remaining 1 t. lime juice and brush with reserved sauce mixture during last minute of cooking. Let stand 5 minutes before slicing. If desired, garnish with lime and parsley and serve with additional barbecue sauce.
Reviews
Most Helpful
Really a unique recipe which we enjoyed!!! I too, made this using flank steak as my store didn't have skirt steak. For the seasoning I used Emeril's Essence and followed the recipe as written. Served it with baked potato, Creole Green Beans and garlic bread for a delicious meal!!! Thanks so much for sharing the recipe. Made for ZWT 9.
This was delicious! It had a unique Cajun flair, a little different than most Cajun recipes I've tried (and I mean that in a good way). And it's so easy to prepare, too. I chose to broil my skirt steak, but I'd like to try this on the grill on another day. You cannot go wrong with this recipe. We really liked your recipe, JackieOhNo! Made for ZWT 9 (Cajun/Creole).

This was really, really flavorful. I am used to squirting fresh lime juice on my skirt steak since I like it Colombian-style, but the Creole seasoning really "kicked it up a notch!"