Zesty Broccoli and Cauliflower Au Gratin
Parsley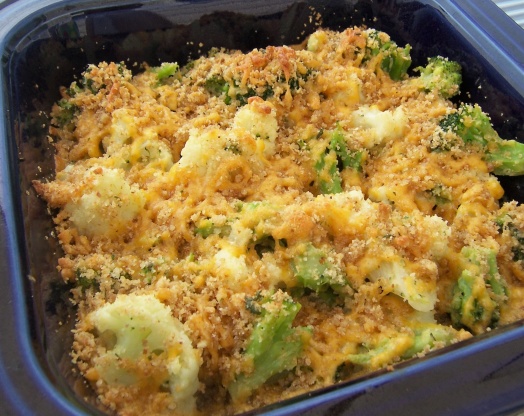 Easy, delicious side dish.

I never really wanted to write a poor review, but I feel obligated to now. It is truly dry, and lacks additional flavor outside of the veg. If you're seeing this recipe for the first time, find another one instead of trying to redo it until you have the right balance of flavor and texture.
Preheat oven to 425°F.
Combine breadcrumbs with cheese, stir mixture well, and set aside.
Arrange broccoli and cauliflower in a steamer basket over boiling water.
Cover and steam until tender-crisp (4 minutes).
Coat a 1 1/2 qt casserole dish with cooking spray.
Drain veggies and place in casserole dish.
In a small bowl, mix margarine, mustard, and pepper; drizzle mixture over veggies.
Toss to coat, and sprinkle breadcrumb mixture on top.
Bake until heated through (8 minutes).