Zesty Barbecue Beef Sandwiches
Parsley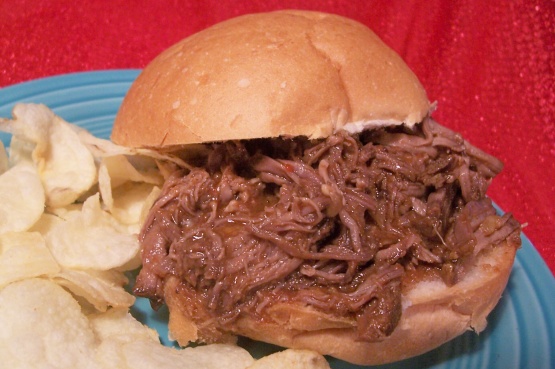 Feb 4th 2008. This was the first thing I have ever made in a crock pot and I really am just a guy learning how to cook. But I got a few tips and I made it for my Super Bowl Party and EVERYone loved it. I changed the recipe a bit though, I poured in the pot a can of rootbeer and a can of pineapple chunks first added the roast, cooked it for eight hours. The carbonation of the soda made it so tender I then strained the rootbeer out of the crockpot leaving only the pineapple chunks. I then stirred in the BBQ sauce and let it cook on low for another 2 hours. My guest were in heaven! thanks!!!
In large bowl, combine ketchup, brown sugar, vinegar, mustard, Worcestershire and liquid smoke.
Stir in salt, pepper and garlic powder.
Place chuck roast in a slow cooker.
Pour ketchup mixture over chuck roast, cover and cook on low for 8-10 hours.
Remove chuck roast from cooker, shred with a fork and return to slow cooker.
Stir meat to evenly coat with sauce; continue cooking approximately 1 hour.
Spoon meat onto toasted buns and top with additional barbecue sauce, as desired.