Katanashrp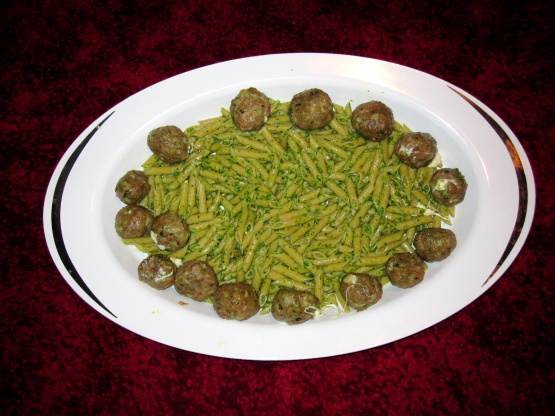 OK, the name's silly, but this version of pesto is really good! The recipe makes enough to generously sauce 1 lb of your favourite pasta. Developed for RSC #6. (edited to add that this recipe eventually won Ready, Set, Cook! #6. I am so proud of this creation and all the favourable reviews it has received - thanks to all who have tried it.)

DH is a meat and potato kinda guy... but he loved this! I used it over chicken breast and cheese tortellini with sun-dried tomato french bread. Fanstastic - thanks for posting! Update 12/07: I love the 'skinny' version of this Pesto Sauce: I use a high quality white wine, double the amount called for and toss in some lemon juice in place of the full zest - then reduce the olive oil by about half. I also use reduced fat parmesan cheese. Fantastic! I've also noticed that (oddly enough) I preferthe cashews over pine nuts in this recipe.
Mince and mash the garlic to a paste with salt and peppercorns.
In a processor or blender, puree spinach with basil, oil, wine, cashews, Parmesan, lemon zest and garlic paste.
The pesto keeps, covered with a thin film of olive oil and chilled, up to 2 weeks.
This makes enough for 1 lb of pasta.