Zeeva22 Eggplant Stromboli
Rita1652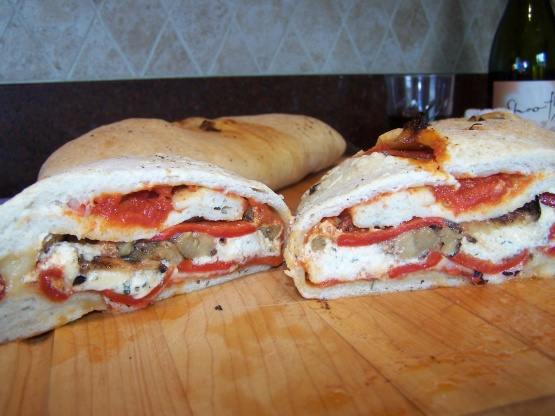 I had leftover Yummy Low Carb Low Fat Grilled Eggplant (Aubergine) and DH want pizza so I went and made this recipe. He loved it!!!!!!! As you know how picky he is! That recipe is grilled eggplant with jar roasted red pepper, lots of cheese. It was a bit rich so I went and added dough and sauce. To die for. Made in honor of Chef #122782.
Preheat oven to 425.
Roll out the dough into about 12x10.
Place leftover eggplant on edge of dough closest to you.
Roll the side with the toppings into the bare dough. Bringing the side up and pinching so nothing leaks out.
Score the top of the dough for steam to escape.
You can do an egg wash of just brush with water.
Bake for 25 minutes.
Remove and let rest for 10 minutes before slicing. Enjoy!
Live, Love, & Laugh.