Zaxby's Chicken Fingers Dipping Sauce
gailanng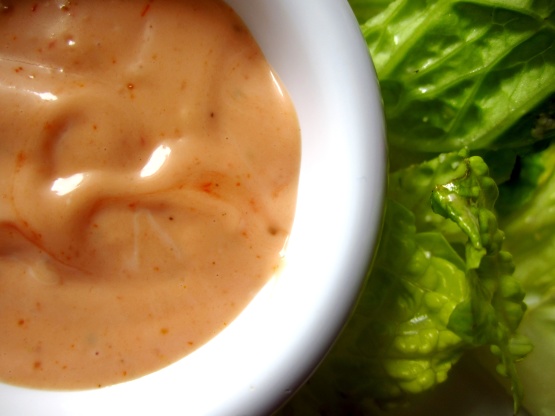 This recipe was posted in the Atlanta Journal Constitution newspaper. Zaxby's fans have tried to duplicate the restaurant chain's core dipping sauce. This one posted on Recipelink.com. Zaxby's co-founder Tony Townley took a look, saying the recipe was about half-right. Try it to see if you don't think it's almost right! The cooking time is the refrigeration time for this recipe since there is actually no cooking involved.

I don't even know what Zaxby's is but I do know we loved this sauce. I love that it has easy ingredients which add up to a great little dipping sauce. I'll be using it often. Thanks for posting! Made for PAC Spring 2009.
Mix together the mayo, ketchup, and garlic powder, blending well. Add Worcestershire sauce and blend well. Cover the surface of sauce with lots of black pepper until just coated. Blend well. Repeat process covering surface with black pepper and stir until belnded well. Refrigerate for at least two hours prior to use to allow the flavors to mingle. Serve with chicken fingers.