Zaru Soba - Chilled Japanese Noodles
becy959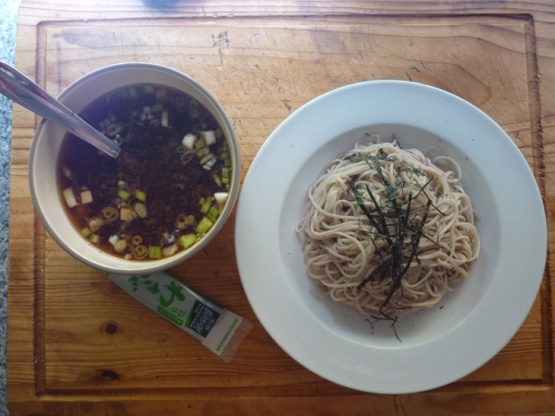 This is a dish I became addicted to in Thailand, of all places... I'd never seen it here in Australia, so I learned to make it myself. It's extremely refreshing in hot weather. One way of serving the noodles is to place them over a dish of ice to keep them cool, but that's not necessary if you prefer not to. If you can't find dashi, which is a type of stock prepared with bonito flakes and seaweed, I have found that shop bought instant miso soup can do at a pinch. You might need to fiddle with the proportions of ingredients for the sauce to suit your taste. Some people like to add a little bit of sugar to the sauce as well.
90

g dried soba noodles

1

cup dashi

2

tablespoons shoyu or 2 tablespoons light soy sauce

2

tablespoons mirin

1

tsbpn rice wine vinegar

1

teaspoon wasabi

1

sheet nori
Combine dashi, shoyu, mirin and vinegar in a pan and bring to a simmer.
Remove from heat and store in refrigerator to chill.
Bring litre of water to boil.
Add soba noodles.
Cook for 4 mins.
Drain noodles using a colander.
Rinse with cold water and wash noodles, making sure all the starch is rinsed off.
Cut nori sheet in four.
Take one quarter and slice thinly.
Place slices of nori on noodles.
Slice spring onion and place on a small dish.
Put wasabi paste on another small dish.
Serve noodles on a bamboo mat traditionally, or just use a plate, with the dipping sauce and condiments in separate bowls.
Combine desired condiments into the sauce.
Dip noodles in sauce and eat!