awalde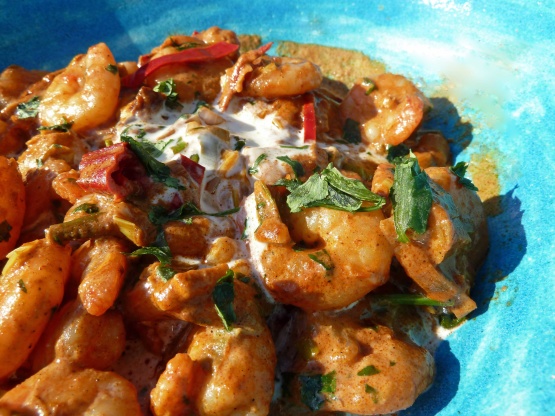 Serve this sensual creamy dish best with chapattis but goes well with white rice as well. If you you don't have creme fraiche on hand your can use Greek yogurt or coconut milk instead.

We absolutely loved this, a real treat!! I didn't make any significant changes, like previous reviewers I had to use a regular onion, not realising that I had run out of green, and I did add a bit of white wine to create a bit of sauce, but I think that these did not significantly alter the dish. Definitely a make-again!!! Thank you awalde, lovely recipe, made for PRMR tag game.
Prepare all the ingredients first!
Heat oil in a frying pan. Fry chili and spring onions and for two minutes.
Add tomato puree, garlic and ginger; stir and cook for 3-4 minutes.
Add prawns and cook for five minutes until they change color and turn pink.
Add lime, coriander, 2 tablespoon creme fraiche and garam masala, let it all bubble for 2 minutes.
Top with the last tablespoon of creme fraiche, garnish with cilantro leaves and serve and eat immediately.