Bergy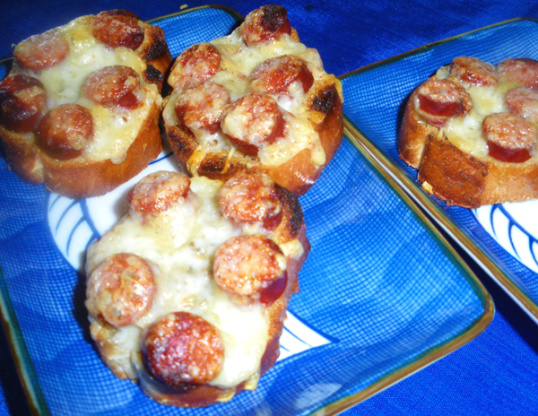 Chef's hat off to my 10 year old DS. While making brushetta for a neighbor's BBQ I found I still had quite a bit of french baguette bread left and my little Chef in the making came up with this recipe. Funny thing was that the guests scarfed up his recipe faster than my brushetta. Very kid friendly recipe and the adults raved too. You probably could add some pizza sauce too, but I had none and it didn't seem to matter. If you try these, please write a review as I have a very anxious DS waiting to read them :)

Wonderful! Have made several variations and my kids LOVE them! We always make enough to have some to send into school for lunch the next day.
Preheat oven to 350 degrees.
Slice Baguette diagonally about 1/4" to 1/2".
Brush each side of bread with Olive Oil.
Place bread on baking sheet.
Sprinkle Garlic Powder& Oregano over bread slices.
Place 1 or 2 slices of Pepperoni on top of spices.
Sprinkle shredded Mozzarella over Pepperoni.
Bake@ 350 degrees for 7 to 10 minutes.
Serve immediately.