Z Tejas Dos XX's Pork Carnitas
Feej3940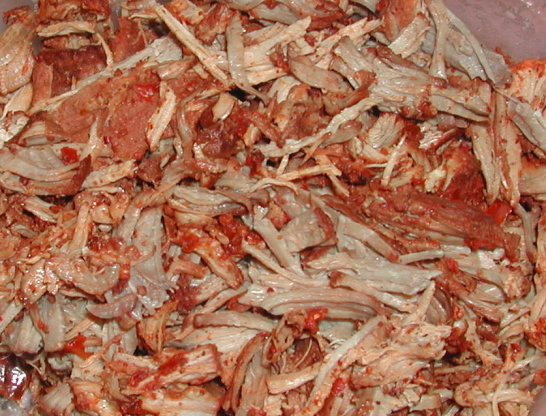 From the Phoenix Arizona newspaper courtesy of Chef Marc Janiec of Z'Tejas Grill

We enjoyed this. I wouldn't have thought to put orange juice & beer in with the pork. That was very good. I used the full amount of achiote powder. However, since we just started using annatto seeds, I think next time, I will cut it with chili powder. It will be a bit closer to what we're used to. Thank you very much for sharing. By the way, I put this in the crock pot & it worked wonderfully.
6

lbs pork butt, cut into 2 inch cubes
1 1⁄2 quarts water

1

quart orange juice

3

(12 ounce) bottlesDos XX beer
1⁄4 cup achiote powder or 1⁄4 cup paprika

4

ancho chilies, stems removed

3

tablespoons garlic, chopped
1⁄4 cup kosher salt

1

lb white onion, chopped
Place the pork, water, orange juice, achiote, beer, bay leaves, ancho chilies, onion and garlic in a large roasting pan.
Place pan over low heat; cook about 1 hour or just until the meat is about to fall apart.
Using a slotted spoon, remove meat to a sheet pan; let cool slightly.
Drain the juices from the pork; reserve for later use.
Discard the onions and remaining solids in the roasting pan.
In a large saucepan, heat corn oil to about 350 degrees (Caution: Make sure there is at least 6 inches of room between the top of the pan and the oil, otherwise, the oil could boil over).
Being careful not to burn the meat, slowly and carefully add the chunks of meat to the hot oil; fry until crispy.
Using a slotted spoon, place the meat in the reserved sauce.
Cover the pan with aluminum foil and cook in a 300-degree oven for 30 minutes.