Yummy Zested Deviled Eggs
flower7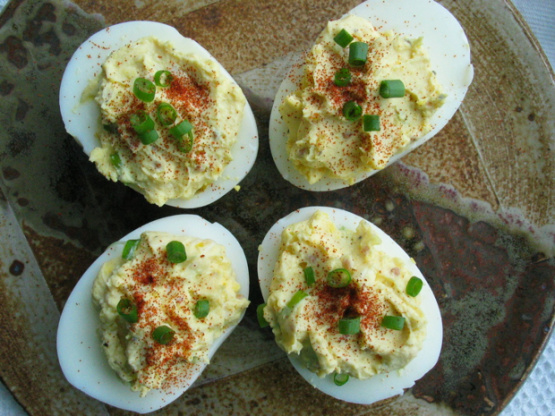 When I saw the ingredients for the RSC contest(Feb. 2010), this came to mind. I love the lemon zest in this and the smoked paprika is so good! This recipe is easily doubled or tripled.

Great tasting deviled eggs, & something a bit different from what I usually make, which is all to the good, I thought! I liked the addition of cream cheese & the only thing I changed was to increase the amount of lemon zest ~ Absolutely love that stuff! Thanks for sharing a great recipe! [Made & reviewed in Every Day Is a Holiday tag]
Place the eggs in a saucepan and cover with lukewarm water.
Add the white vinegar and a pinch of salt.
Bring to a full boil over medium heat,then boil for 2 more minutes.
Remove from heat and cover with a lid.
Let the eggs sit for about 10 minutes. Drain the eggs and run under very cold water to cool them down. Place eggs in ice water for about 5 minutes.
Drain and peel.
Remove yolks from egg whites carefully and mash with a fork in a bowl. Add mayonnaise, cream cheese, mustard, vinegar, lemon zest, green onion, salt and pepper. Stir to mix thoroughly.
Spoon(or pipe) into egg whites and sprinkle smoked paprika generously over the tops.
If you like, place a little green onion slices on top of eggs. Enjoy!