Rita1652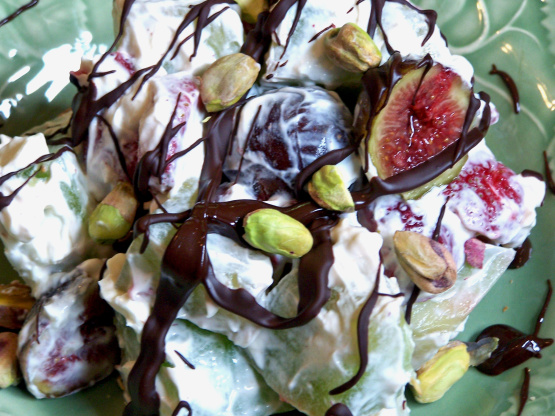 A delicious dessert of fresh fruit +

I printed this in metric so I really didn`t go by amounts. Come to see I was very generous with the yogurt and chocolate and I`m glad I was. The melted chocolate did get hard as it hit the chilled fruit. I added fresh cut figs. Chilled overnight. Be sure to enjoyed the drained juices. Yes, this is Yummy,yummy!
slice strawberries,dates and cube melon.
Put all fruit in large bowl and pour wine over,turning fruit once to make sure it is absorbed.Marinate for 1-2 hours.
Drain fruit and put into serving dish.
Fold in the yoghurt(mixed with sugar).
Drizzle melted chocolate over top and sprinkle with pistachios.
Chill well and serve.