Pneuma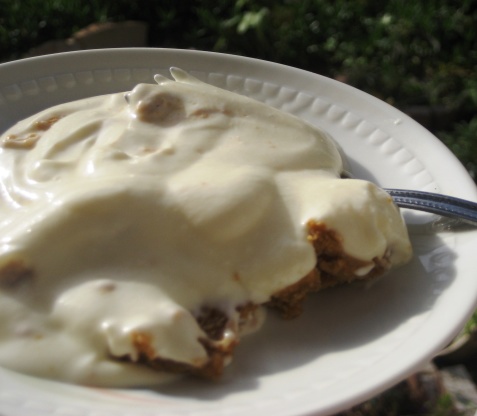 This recipe has been in our family for many years. It is easy, tasty and quite diet friendly. I hope you enjoy this nice light dessert. The prepatation time includes the refrigeration time.

Made this with the ingredients listed, but then added some dried strawberries that I'd picked out of a dried fruit-&-nut package (One of these days maybe I'll find a retailer that carries packages of dried strawberries!) Could have used fresh berries but the intense flavor of the dried ones intrigued me! Made for a VERY, VERY TASTY DESSERT, & a lite one, at that! Thanks for sharing! [Made & reviewed as an extra recipe for one of my vegetarian teammates in the Vegetarian/Vegan Recipe Swap]
2

cups graham wafer crumbs
1⁄3 cup butter (or margarine)
1⁄4 cup brown sugar

3

cups fruit yogurt (low fat works fine, we like strawberry but use any fruit you like)

3

cups Cool Whip Lite (thawed)
Melt the butter.
Add the next two ingredients and mix to make the crust.
Place in a 9" by 13" baking pan and press lightly.
Bake in 325F oven for 9 - 10 minutes. Be careful not to scorch it.
While the crust cools mix together the yogurt and Cool Whip and then pour it into the cooled crust.
Place in fridge for several hours to set.
Enjoy!