Yummy Veggie (Or Turkey) Chili
Prep 15 mins
Cook 25 mins

You can also add eggplant or zucchini, if you desire. I have even used buffalo or venison in place of the turkey, and it makes it even better!
Directions
Cook meat and taco seasoning according to package directions.
While meat is cooking, begin sauteing the vegetables. Start with the onions, then add the carrots, bell pepper, and garlic.
After 5-10 minutes, add the cumin, oregano, fennel seeds, and cayenne pepper to taste. Then add the wine, beans, tomatoes, corn, meat, and lemon zest (if using).
Simmer for about 15-20 minutes.
Add lemon juice. Taste for proper seasoning, and serve with desired toppings.
Most Helpful
I did put all of the cumin in and we loved it! What a wonderful chili for a cool damp day. Thanks Maito for posting. Made for Spanish forum event.

This was the lightest and brightest chili I ever tasted! It was mostly the lemon (I used both juice and zest) that made it that way, but the vegetables, wine and taco seasoning made this recipe too. I omitted the fennel seed because I had none and used small red beans instead of kidney beans. I omitted the ground turkey of course because BF and I are vegetarians. I topped with Italian flat leaf parsley (good substitute for cilantro which my BF isn't fond of) and grated cheddar cheese. My BF really appreciated this too. One of the best chili recipes I've ever tried, thanks Maito!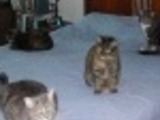 Have always maintained one cannot have too many Chili recipes - having enjoyed this version I now have added another to my cookbook. Delicious with the vegetables making for eye appeal. Used lean meat, added the optional fennel because I happen to love the flavor it imparts and went light on the lemon. Next time will double the recipe to assure some gets to the freezer! Thank you for sharing.