ChefDLH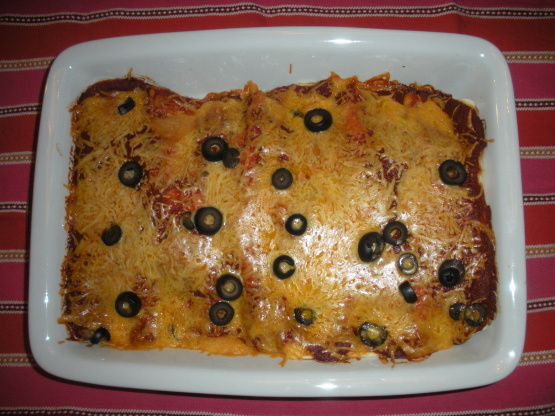 This is a quick and easy meal....YUMMY!!

Thanks Arie for posting. I love to try new enchilada recipes so I tend to make different ones each time. This was very good. I made it as written and it ended up making 6 big enchiladas. The pan was filled and couldn't squeeze another one in plus we had used all the filling. So we went with it. The dish was well seasoned and didn't feel like a typical turkey dish. In fact I may leave out the chili powder next time as the taco seasonings were enough. The sauce was simple and different but next time I would double it and put sauce on the bottom of the pan set the enchiladas in the sauce and cover them with more sauce. The tortilla parts covered with sauce softened more than the bottoms. We used a standard 16 oz can refried beans but will use the jumbo one next time. We love sauce and beans. It was quick and easy but filling and tasty too. Made for Bargain Basement Cooking Event Jan 2010. Enjoy. ChefDLH
Preheat oven to 325 degrees F.
Cook the turkey, (you can use some holiday leftovers too they work great).
In a saucepan, mix the tomato sauce, taco season, and chili powder (can add more season to taste).
stir occasionally and let simmer on low heat.
Heat beans in a saucepan using a small amount of water to thin out the beans a little.
Once you have all the ingredients cooked and ready, you spread beans and meat on each tortilla, sprinkle some cheese, and some olives inside.
Roll up and place in a rectangle baking pan in rows.
When all tortillas are filled, pour the tomato sauce mixture over the enchiladas, sprinkle cheese on them and put olive slices on top of each enchilada.
Cover the pan with aluminum foil and place in oven for 45 minutes or so.
Serve nice and HOT!
Yummy!
These enchiladas taste even better reheated!