Yummy so Easy Orange Chip Muffins
Boomette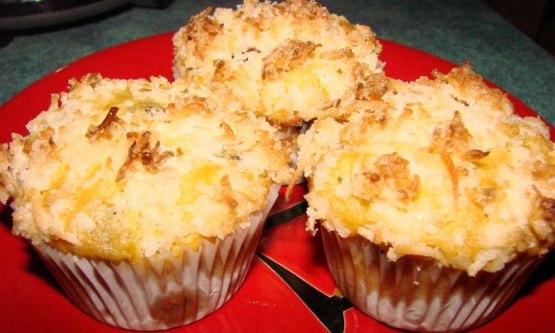 The title says it all!! Adapted from a Family Circle magazine.

Wow are these muffins ever good! I used fresh chopped mandarine oranges in place of canned, this recipe is going into my favorites! thanks for sharing hon!...Kitten :)
Heat oven to 350°F Place 24 paper or foil liners into 2 muffin pans.
In a large bowl, whisk flour, baking powder, baking soda and salt. Set aside.
In another large bowl, beat together sugar, orange juice, oil and eggs. Beat in the flour mixture until combined. Fold in the oranges and chocolate chips. Beat for 1 minute. Spoon batter equally into the lined muffin pans, about scant 1/4 cup into each.
Topping: in a small bowl, stir together coconut, sugar and melted butter. Sprinkle evenly over top of the muffins.
Bake at 350F for 20 minutes, or until toothpick inserted into center of a muffin comes out clean. Cool slightly on wire rack before removing from pan.