Yummy Roasted Vegetables!
katew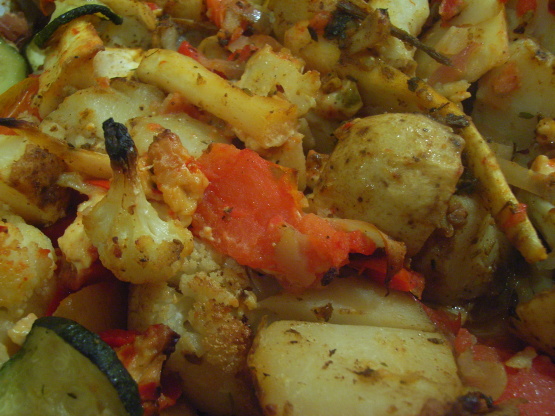 Easy cook roasted vegetables that can be added to pasta, and are lovely with roast chicken or fish and roast or mashed potato. can also be re heated the next day and used in sandwiches or salads
garlic (as much as you want!)

1

red pepper

1

yellow pepper
loads cherry tomatoes

1

dash good balsamic vinegar

1

red chile (for a spicy version!) (optional)
Preheat the oven at about 200.
Roughly chop all the vegetables and put in a large roasting dish.
Add the red onion, peppers, and courgette and drizzle with olive oil. Sprinkle sea salt and pepper over and add a good splash of balsamic vinegar. After about 30 minutes, add the aubergine and cherry tomatoes and cook until the vegetables are slightly brown and glistening in the lovely juices!
Serve with pasta or chicken breasts/ fish or fresh crunchy bread. Yummy with mashed potatoes and a splash of sweet chilli sauce.