teresas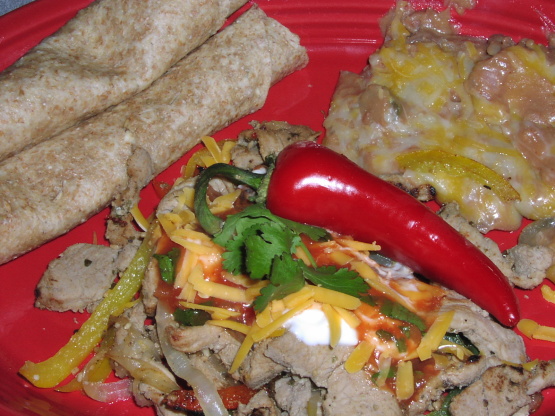 This recipe has been in my family for many years. Out of myself, brothers and sisters on down to nieces and nephews, someone's always making it! I hope you will enjoy it as well.

These fajitas really were "yummy"! They came together quickly after the marinate time. They have an interesting flavor that includes a touch of orange and herbs that you normally don't taste in fajitas. Overall an excellent dish. I plan to make this again. Thanks, Fluffster for posting your family recipe.
Slice pork into thin strips.
Marinate strips in garlic, oregano, cumin, salt, orange juice, vinegar and hot sauce for 30 minutes.
Heat heavy skillet or griddle until hot. Add the oil, and when it is hot, and pork strips. Stir-fry until pork is no longer pink.
Add bell pepper and onion and cook until vegetables are limp.
Serve on flour tortillas.
Garnish with green onions, salsa, cheese and lettuce.
Note: prep time includes marinade time.