Yummy Oatmeal Chocolate Chip Cookies
Prep 15 mins
Cook 30 mins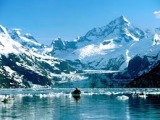 A friend brought these to a picnic. After one taste of the warm-from-the-oven cookie, I knew I had to have the recipe. These are now the most requested cookie by my family. The recipe makes a HUGE batch of big cookies, but they do freeze very well. The 5 dozen amount is a guess, I've never counted! We love these and hope you will too!
Directions
Preheat the oven to 375 degrees F.
Cream together, using a stand mixer: butter, sugar and brown sugar.
Add the eggs, one at a time, and the vanilla. Blend well.
Blend 2 1/2 cups of the oatmeal in a food processor or blender.
In a separate large bowl, mix together: flour, all of the oatmeal (2 1/2 cups processed and 2 1/2 cups whole), salt, baking powder and baking soda.
Add the dry mixture, on low - a bit at a time, to the wet ingredients and blend together until fully incorporated.
Add the chocolate chips and blend in on low. (Add nuts here, too, if you want.).
Scoop balls onto cookie sheets, spaced a few inches apart. I like to make them about 1 inch balls.
Bake for about 10 minutes, depending on your oven.
Get the gallon of milk ready!
Reviews
Most Helpful
I'm sooo glad I didn't cut the recipe in half when I made these for Christmas! This is the best and only oatmeal cookie recipe I'll use from now on!!! The ground up oatmeal in this recipe gave the cookie a better texture and helped hold the cookie together vs any regular chocolate chip cookie or oatmeal cookie. These cookies don't spread much at all (which I like because they result in a nice thickness!) so you have to shape/flatten them into rounds before you bake them or else the balls you bake will have a rounded top (unless that's what you're going for). Once I mixed up the batter I divided it into quarters and made chocolate chip oatmeal cookies, chocolate butterscotch chip pecan oatmeal cookies, red and green M&M oatmeal cookies, and cranberry white chocolate walnut oatmeal cookies. Everyone loved these but especially the cranberry version. I love this recipe!
I have been searching for the perfect oatmeal chocolate chip cookie for a while now. I have tried many very good recipes--some were even exceptionally good. However, none have them has even come close to this recipe. I really think that the thing that makes this recipe so good is the fact that half the oats are ground in the food processor before being mixed in. It gives the cookies a perfectly chewy consistency yet allows them to be nice and thick at the same time. I will definitely be making this one again. I used Ghirardellli milk chocolate chips, but I will be sure to experiment with other fillers.
This makes a whole lotta cookies but they are heavenly-delicious so they'll go quick! Easy recipe, I'm loving trying cookie recipes with oatmeal in the dough because it prevents the cookie from spreading too much on the pan. Huge hit with the family :) Very clever, grinding up half the oatmeal called for---makes for a great texture in the finished result. I had to change my baking time to 12 minutes ea. but that's because I probably dropped down a larger amount of dough per cookie. Easy! Would totally recommend this to friends and family.