Yummy Low-Fat French Toast
lazyme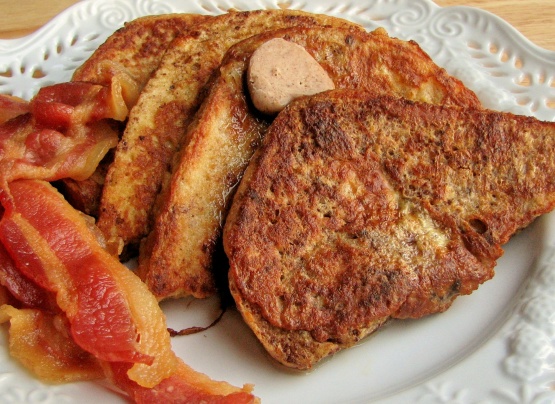 Here's a super tasty and yummy low fat French toast recipe. My family loves French toast and this recipe is good for you as well as quick and easy. My mom always fixed French toast for us in the skillet. For those that aren't worrying about weight, you could use 6-8 eggs and regular milk.... We always topped this with powdered sugar when growing up.

I'm with lazyme on the cinnamon & vanilla thing, & in fact, I used a generous measure of both! These are great with the egg substitute, something I don't usually use, but will have to stock from now on! A great recipe that lends itself to easy variations! Thanks for sharing! [Tagged, made & reviewed in Pleast Review My Recipe]
In shallow bowl, combine EGG BEATERS Original, milk, cinnamon and vanilla.
In nonstick skillet, over medium heat, melt 2 teaspoons margarine.
Dip bread slices in egg mixture to coat; transfer to skillet.
Brown about 3 minutes on each side.
Top with syrup if desired.